There's been some buzz going around for 3D assets, and why shouldn't there be? Saving hours of tedious work is good news for everyone, especially for Architectural Visualization professionals trying to beat a deadline. With everything that goes into creating stunning renders, it's no wonder more and more 3D designers and artists are turning to third-party solutions for high-quality 3D models.
That got us thinking: As most professionals in the industry are using 3ds Max and popular render engines like V-Ray, Arnold or Corona, wouldn't it be great if there was a solution that offered professional-grade assets and scans that could you easily add to a 3ds Max scene complete with textures AND materials for your favorite renderer?
You'd better bee-lieve it!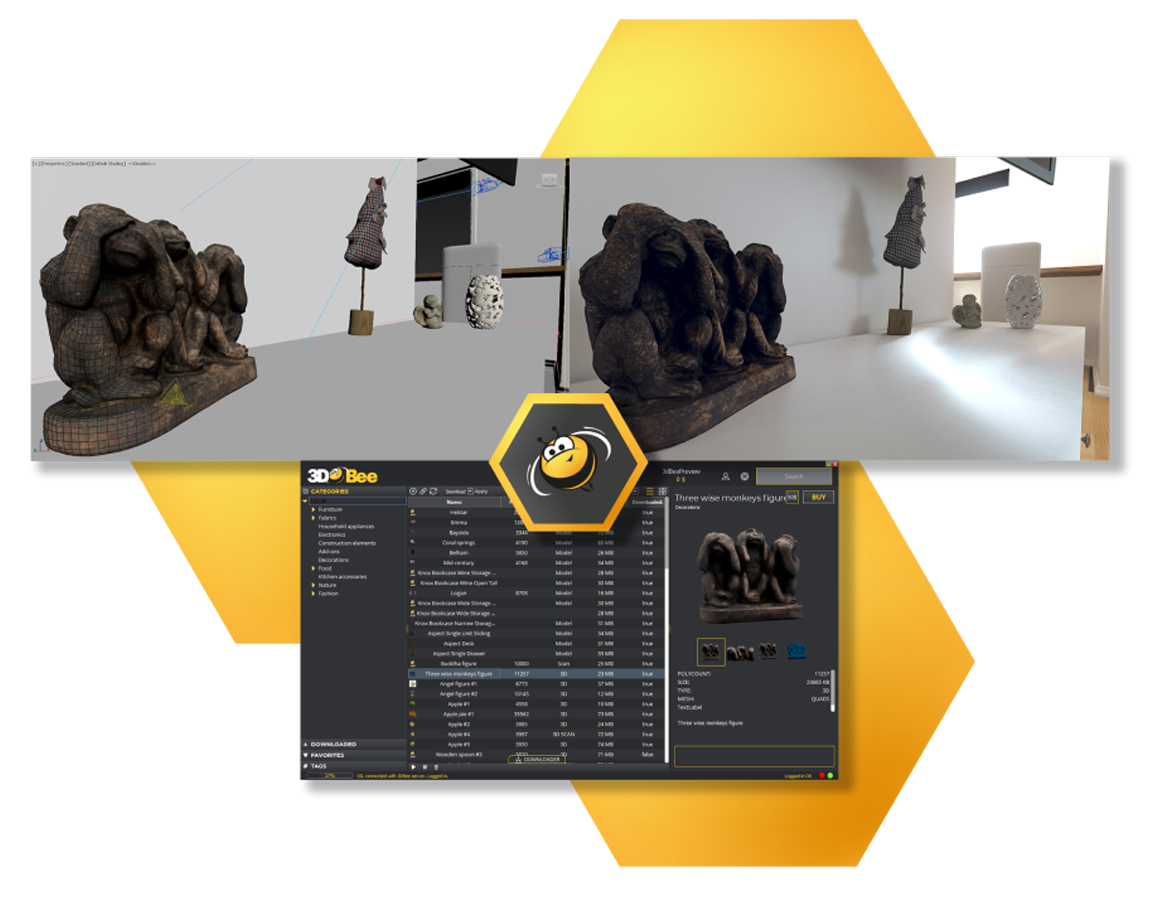 3dBee.IT (that's us) is a team of 3D artists and developers who have come together to create an asset library of beautiful interior models and high fidelity scans for 3ds Max users and their preferred render engines.
We're putting our focus on assets that are often needed to furnish interior scenes, which take time to create whether due to complexity or sheer volume. Our catalog includes hand made 3D models of chairs, desks, cabinets, tables, appliances and more. We also provide optimized 3D scans of various items that you can embellish your room with. Our 3D assets are made to coexist nicely in different sections of a living or working space.
Our library is accessed through our 3D asset manager application that allows users to drag and drop models directly into their 3ds Max projects. Our 3D assets come with various texture sets already assembled into your render engine's shader, which means they are ready to render as soon as they're placed in a scene.
Here's us: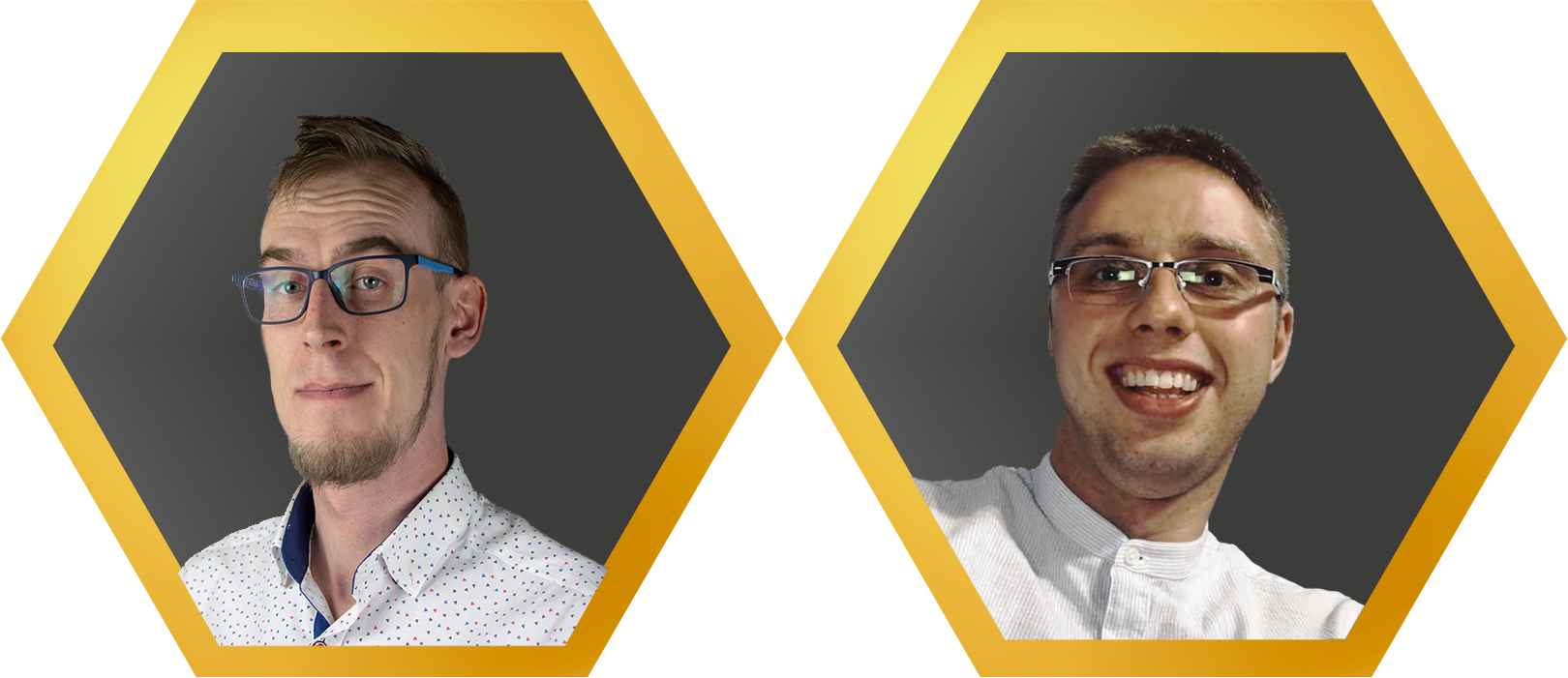 Pawel is a 3D artist at heart, with brains for coding and problem solving. He is a veteran in the 3D field. He's a generalist with over a decade of professional experience under his belt. He is well versed in modeling, lighting, rendering and composting, and his 3D weapon of choice is 3ds Max. He likes to combine the 3D skills with his passion for music and to find ways to turn those two worlds into magical experiences through sound mixing and video editing. When not nerding out on new technologies and building virtual worlds, Pawel enjoys bike rides and binge watching shows on Netflix.
Milosz believes he can solve any problem with code. And why wouldn't he? He's been coding since he was a 12 year old kid. Over the years he's picked up C++, Java, PHP, HTML, and SQL. Basically he lives and thrives on the backend of things but he considers himself a full stack developer. Milosz is still in uni studying software engineering while spending every moment he has building 3DBee.IT. Milosz loves consuming YouTube content related to mathemathics and physics. Typical for any tech head. When not coding, he takes pleasure in taking walks outside and "relaxing" to good drum and bass music.
Amiel is a 3D artist working on GarageFarm.NET's asset library. He has been working with them and honing his skills since 2018 but has been 3D modeling since 2017.
Despite his nerdy looks, he has been training in Mixed Martial Arts for years and is currently practicing Brazilian Jiu Jitsu. He also has an affinity for all things high in protein
Jacek is a 3d modeler specializing in creating photoreal models, and skilled in a wide variety of 3D disciplines. He is well versed in high and low poly modeling, designing V-Ray materials and creating photoreal PBR materials with Substance Painter. In his free time he enjoys Photography and Mountain Biking
What makes us different from other asset providers?
At the core of our beliefs as a team, and the culture of our mother company, GarageFarm.NET is the value we place on human interaction between ourselves and you, the customer. We think that providing the best user experience comes from continuously adapting to the needs of our customers as much as possible. We aim to bring you everything you could want in an asset solution and will work tirelessly to offer a solution that grows with you.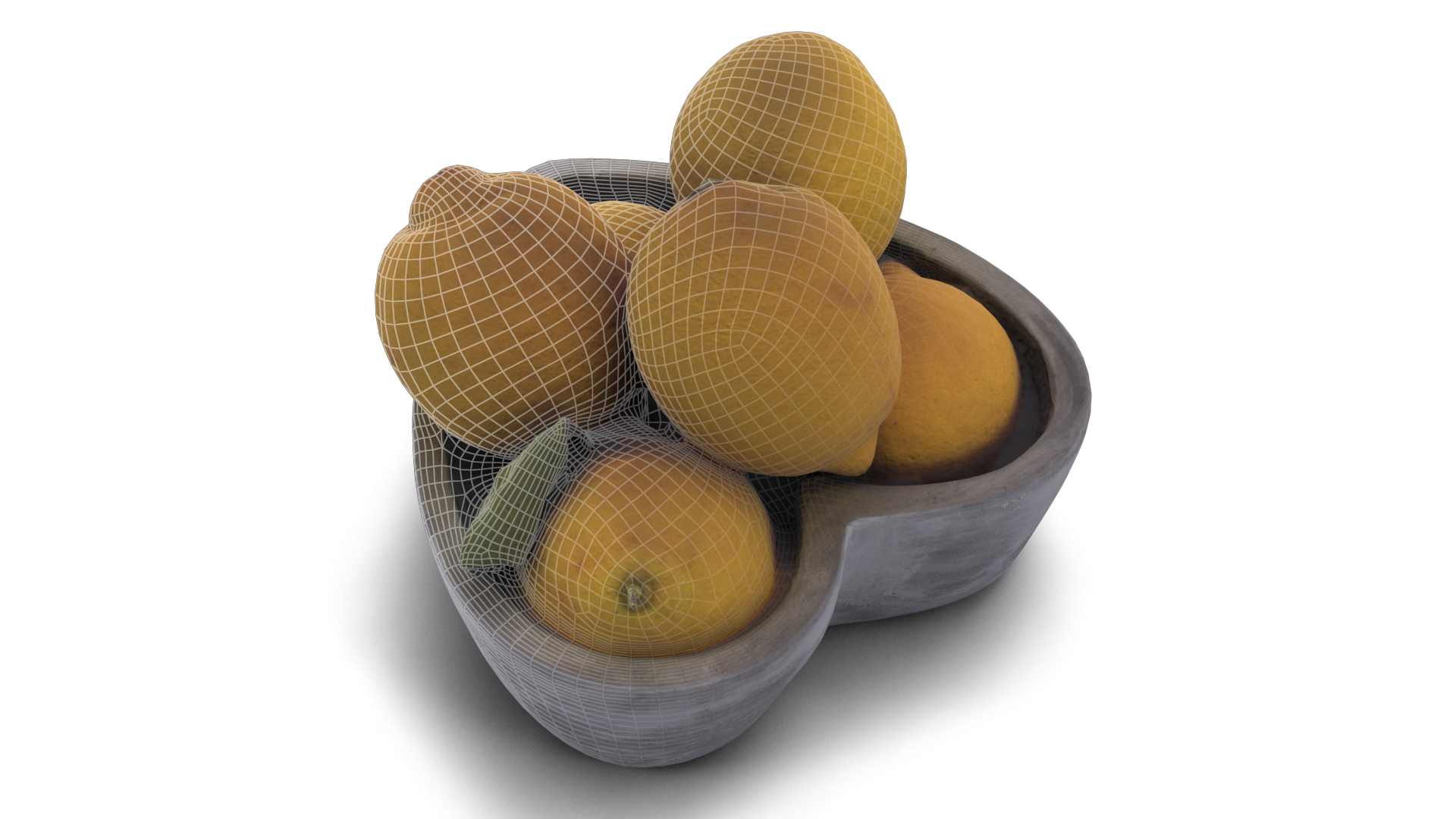 What do we have to offer?
A sophisticated asset manager
Our app is a light and simple asset manager that serves as a standalone access point to our library and works seamlessly with Max. No complicated steps need to be taken to set it up. Simply download and install it, and enjoy automatic integration with 3ds Max from versions 2018 to 2020. As long as you're connected to the internet, you can easily peruse our collection of 3D models, download an asset, and drag them directly into your scene without a fuss.
You can also use the add (+) button to merge your assets into your 3ds Max file or link them as xrefs. The latter option being useful for bigger, more densely populated scenes.
Our asset library is home to an ever-growing collection of 3d scans and model furniture that come with texture sets configured for the most popular render engines. As mentioned earlier, the asset manager creates a material for the engine you're using with the texture sets already connected to their respective inputs. The app currently supports V-Ray, Arnold, Corona, F-Storm and the default scanline renderer, with support for more on the way!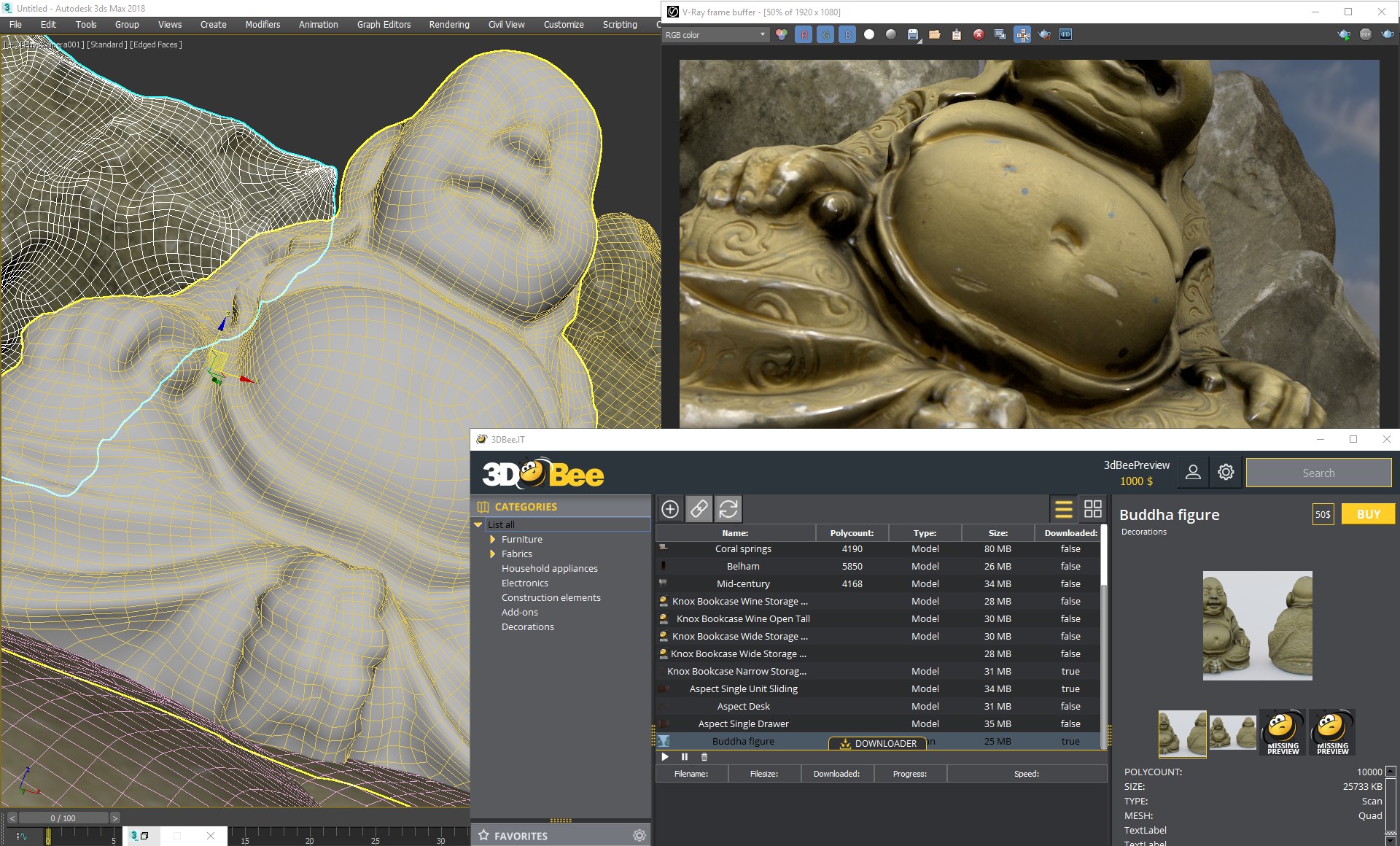 Quality Assets
Our models and scans contain clean, poly count efficient topology at mid- resolution, with optimized UV maps and texture sets. Our furniture assets come with several texture variations, as well as geometry variations for some. Our furniture models are also patterned after widely used styles in interior design and will keep growing with more new looks.
Scans
Our scans are an eclectic mix of everyday objects and natural elements. From plants to sweet rolls to shoes, these assets are especially handy for moments when a scene needs added visual interest outside of the brief, or to help with conceptualization and look development! All of our 3D scans are remeshed and come with reprojected textures, as well as some mesh maps for you shading aficionados!
Models

Our model furniture 3D assets are the perfect companion to any Archviz pipeline. All pieces are modeled according to industry standards, and with visual continuity in mind. We use real-world dimensions and scaling for all of our furniture pieces so that you can use them as they are whether you're creating loose mockups, or working with precise measurements as when visualizing CAD files. Grab assets from a particular interior design style to furnish your rooms, or mix and match if you're feeling frisky!
As we grow, we'll be expanding our hand modeled collections to cover more themes, and include more solutions for your asset needs.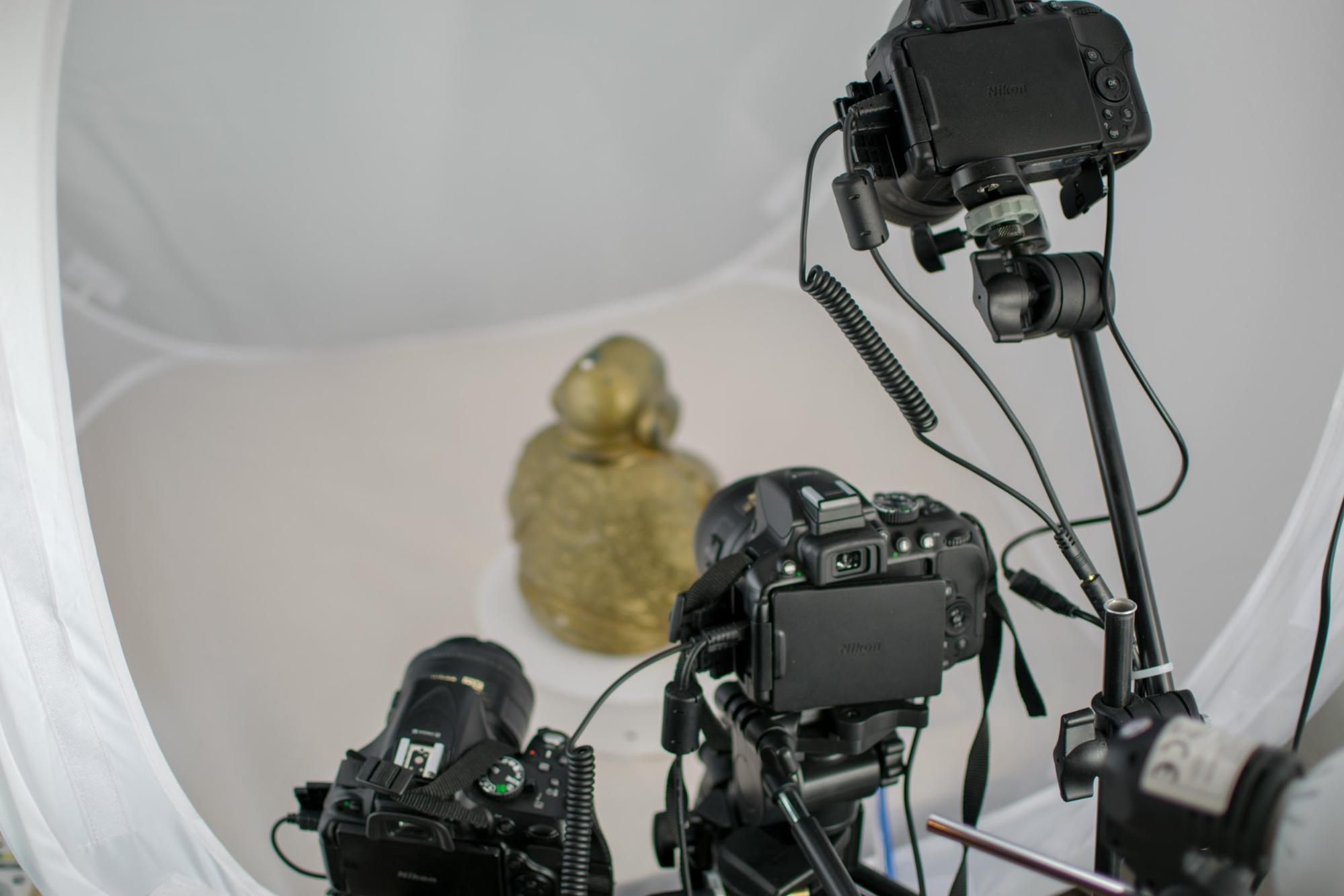 Flexible Pricing Plans
Being 3D designers ourselves, we want to be a solution that's accessible to enthusiasts, freelancers and studios alike. You can either avail of our annual subscription, which for the duration of our launch promo is at $129, or subscribe to our pay as you go plan, which allows you to purchase individual assets without any extra commitment.
As an annual plan subscriber, you get access to our entire asset library, with no download volume restrictions, as well as great deals from our partner services, including GarageFarm.NET and Xesktop.
Our pay as you go plan allows you to purchase credit packs to top up your digital wallet, and purchase the assets you need directly from our application. Once purchased, you can download the asset and immediately add it to your 3ds Max scene. Buy what you need, and come back when you need more. Plain and simple!
Where can you learn more about us?
We'll be updating our site regularly, and if you'd like to be notified of any new updates including additions to our library, service or promotions, feel free to join our newsletter, and we'll be sure to keep you posted. We would also love to learn more about you, so if you have any questions, feedback or concerns, please don't hesitate to contact us at [email protected]
We'd also like to invite you to be part of our community on Facebook and Instagram, where, apart from our newsletter, we'll be announcing news, useful tips, the occasional give away or sale, content featuring our assets in action, tutorials and live streams with some of the leading Max designers in the industry.