Welcome to our little hive!
We're excited to see what you create with the 3d models and scans in our asset library, and we hope that through in the use of our service your interior visualizations become a much more productive experience.
Topping Up Your Balance With Credits
Our assets are purchased through a credit system. To avail of credits, simply head over to
https://3dbee.it/, login, and select "my account" in the header.
The account page is where you can keep track of your balance, and purchase more credits.
Hit the "buy credits" button to purchase credit packs or an annual subscription.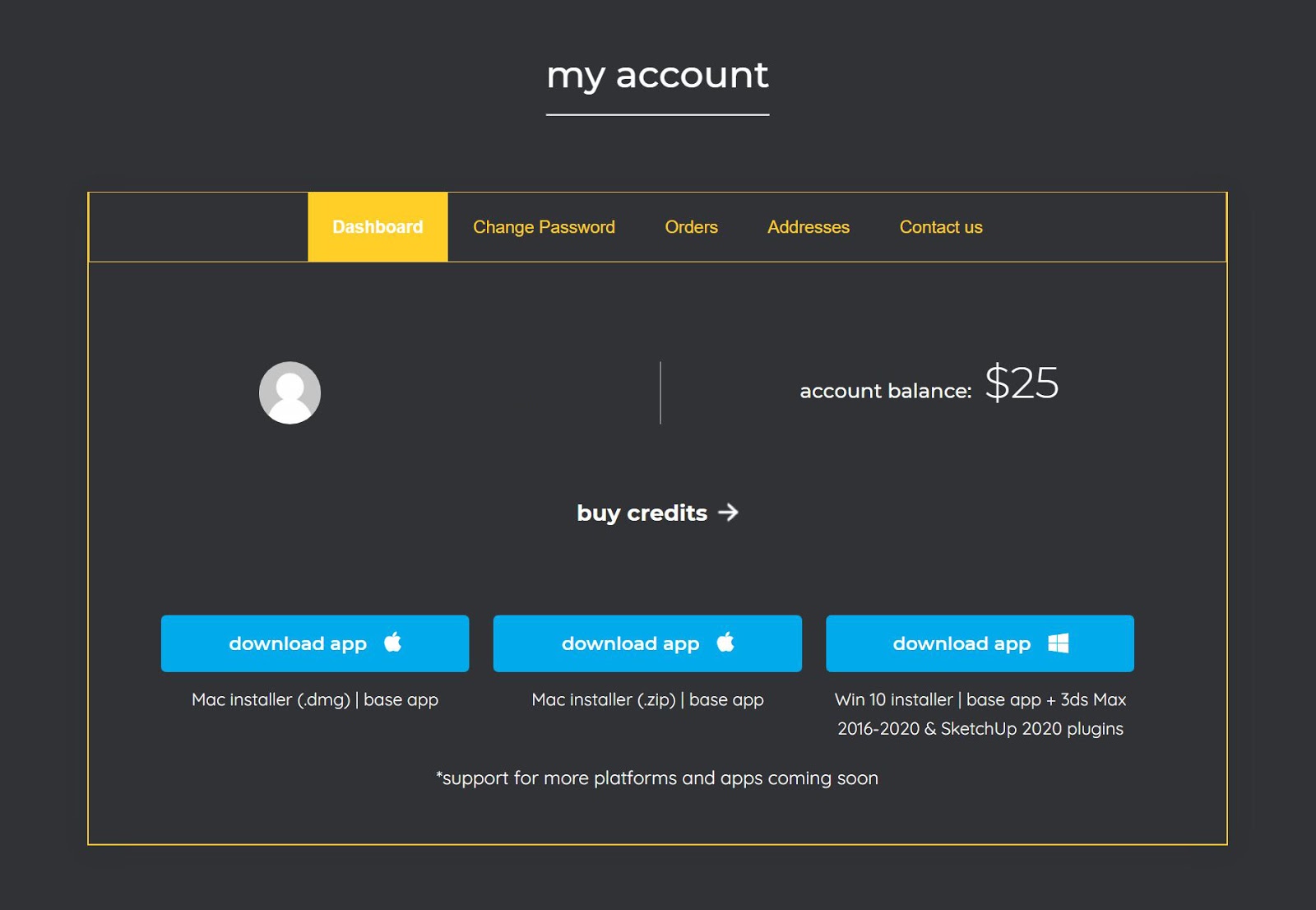 An annual subscription not only allows you unlimited downloads of assets but also $100 worth of rendering credits over at our mother company, GarageFarm.NET.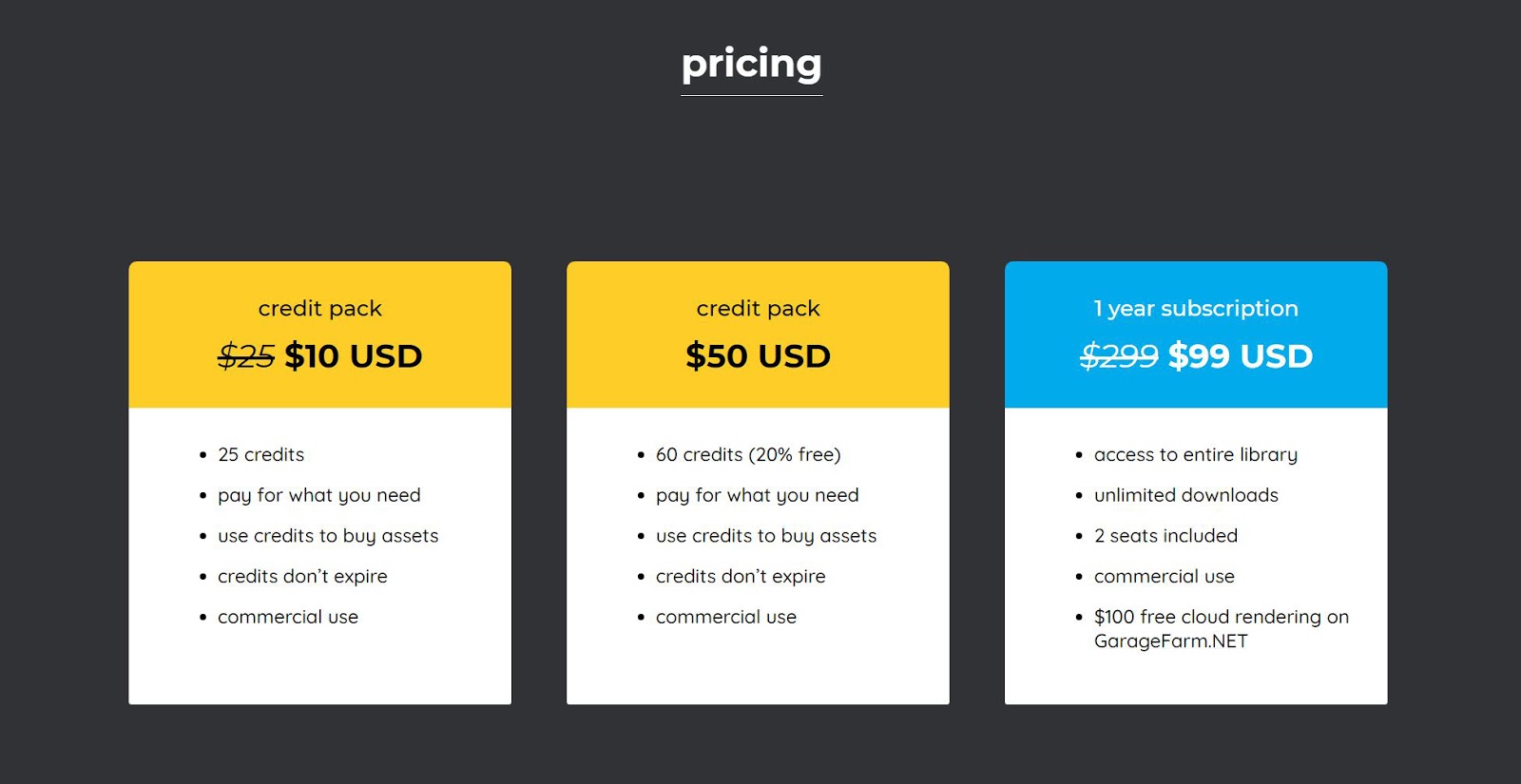 Select Add to cart to make your purchase, and proceed to checkout to seal the deal!
*If you're still unsure about making a purchase, search for the FREE assets we have in the library to download free 3d models and test our service out.
Downloading assets
There are two ways you can add our 3d models and scans to your scene: By downloading them directly from our website or by using our asset management app.
Downloading directly
Once your balance has been updated, head over to the asset library by clicking the "asset library" on the header of our page.
Select an asset you want and on the popup, simply hit "add to my library" to get your copy.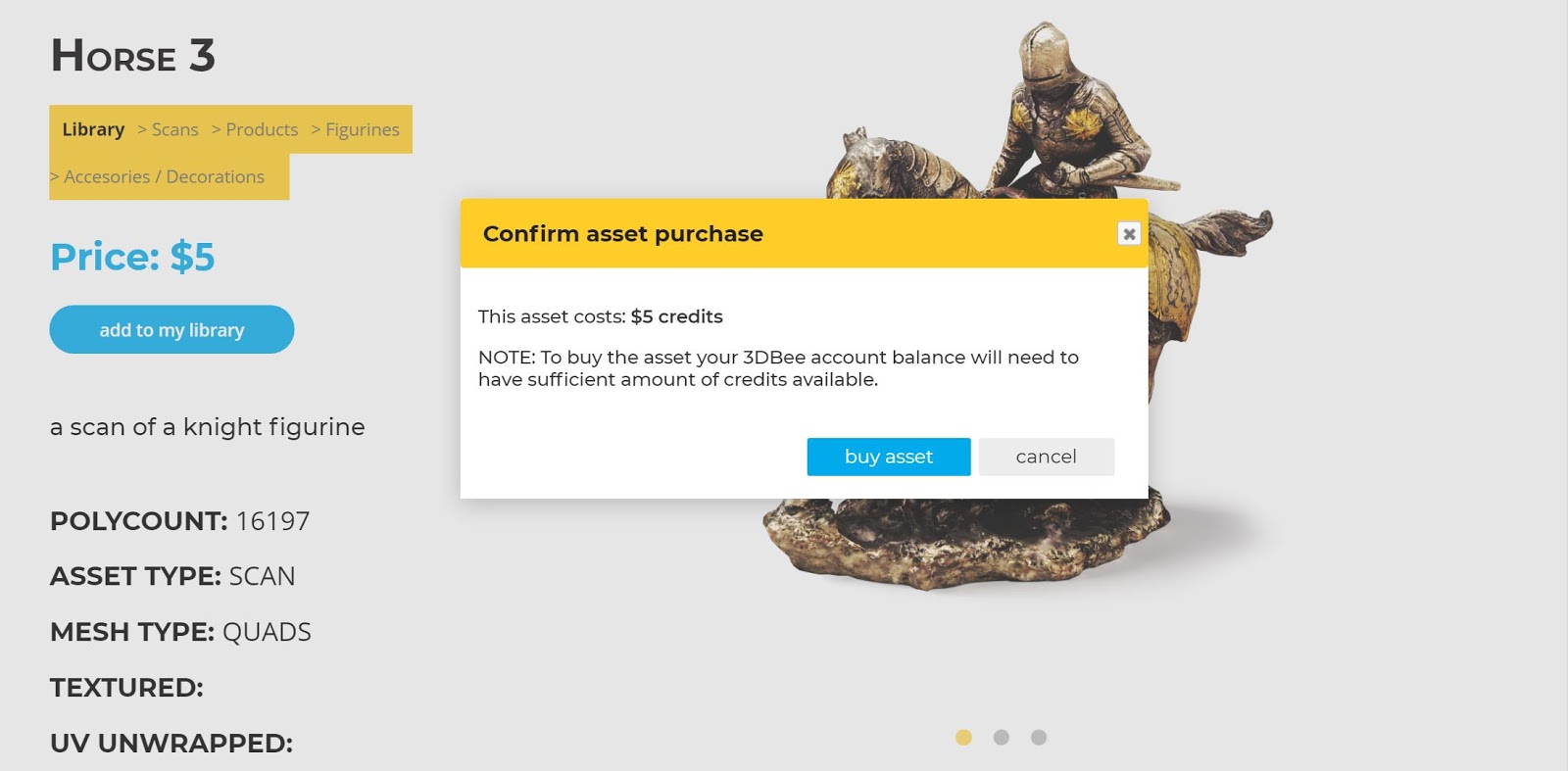 After hitting "add to my library" you will see the prompt as shown above. Hit "buy asset" to confirm the purchase.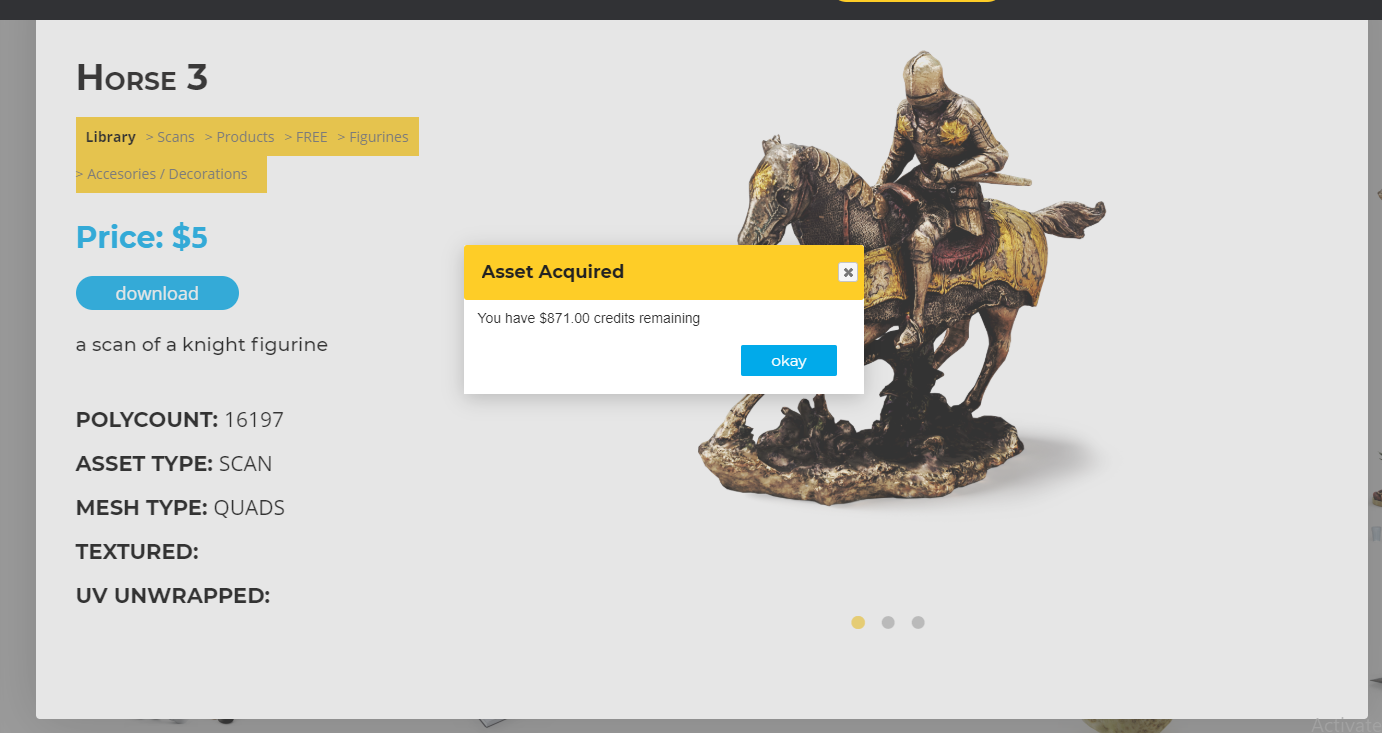 You will receive this prompt once the purchase is complete. At this point, you may now hit "download" on the pop up to save the asset locally.
You will receive your asset as a zip folder containing an FBX, and the maps assigned to each Material ID on the mesh.
The maps are numbered according to the material ID, and for additional guidance for more complex assets, you can refer to the included .xml descriptor file.
From here you can import the FBX to your DCC and link the maps accordingly.
Downloading from the 3DBee app
Our App currently supports 3ds Max from 2016 up, and the following render engines:
Scanline
Corona
V-Ray
F-Storm
Arnold
We also have working support for SketchUp with the V-Ray engine and encourage you to give the app a go if this is your DCC of choice.
In the "my account" page, you will find links to the app installer for your operating system. Simply click on a link to receive the file.

Installing the app is straightforward, and the install wizard will help you along.
Once the 3DBee App is installed and launched, be sure to launch either 3ds Max or Sketch Up and load your scene. In the app, log in with your account credentials and browse through our assets.
When you have found the one you need, select it and hit the blue button on the app's toolbar.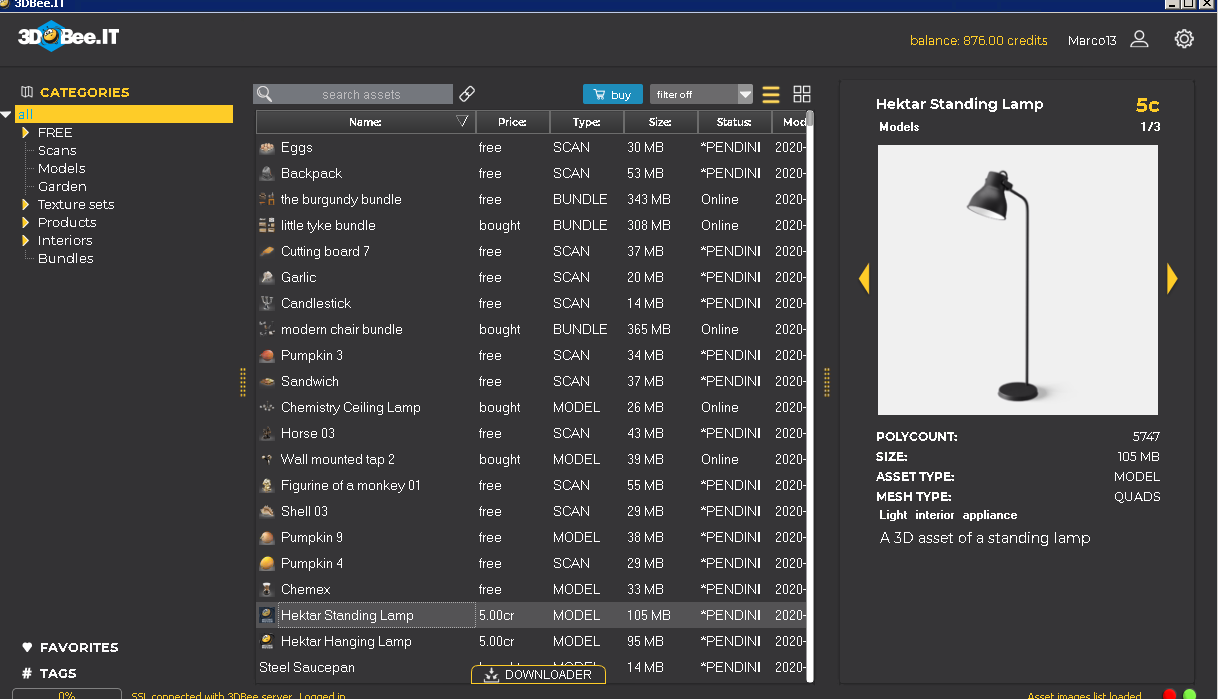 The button will be named either "buy" or "add" depending on whether you have already purchased the asset, or if it is available for free.
When hitting "buy" you will be prompted to confirm your purchase. Check "use real money" (this just means you will be spending credits) and then hit "confirm and buy".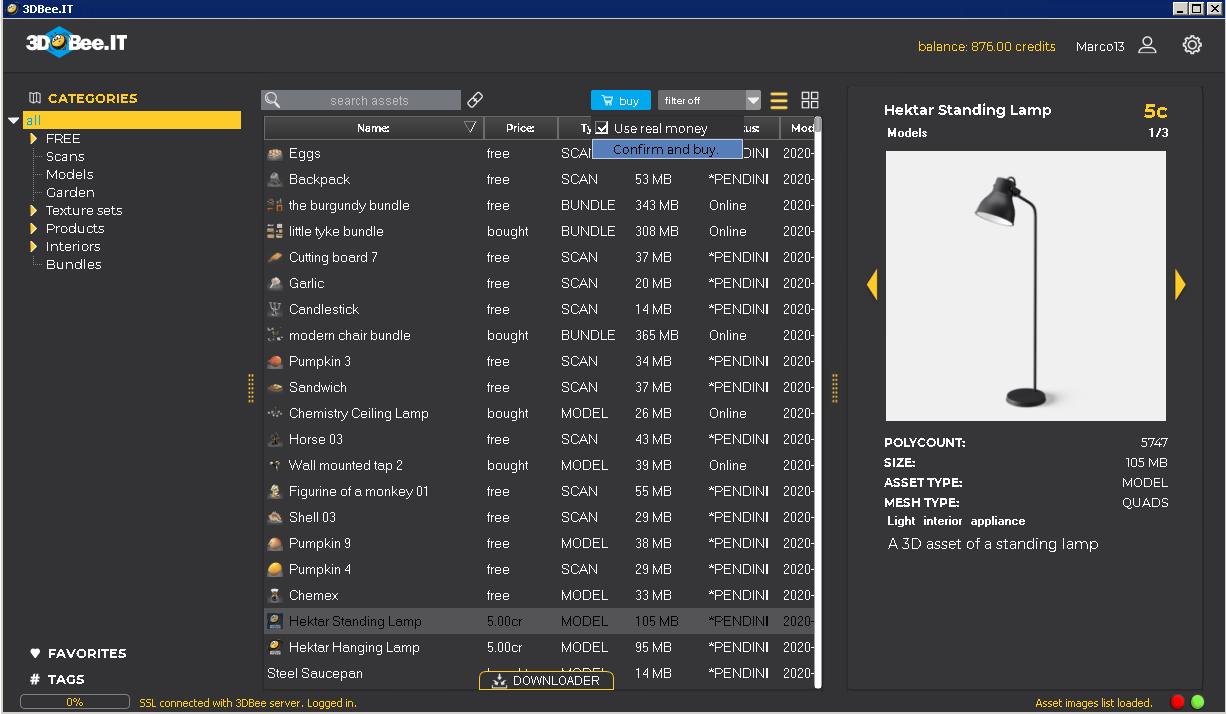 The asset will download and once the download is complete, you may select on the preview on the right side of the app, and drag it into your scene.
Position your asset where you like and left click to confirm the placement.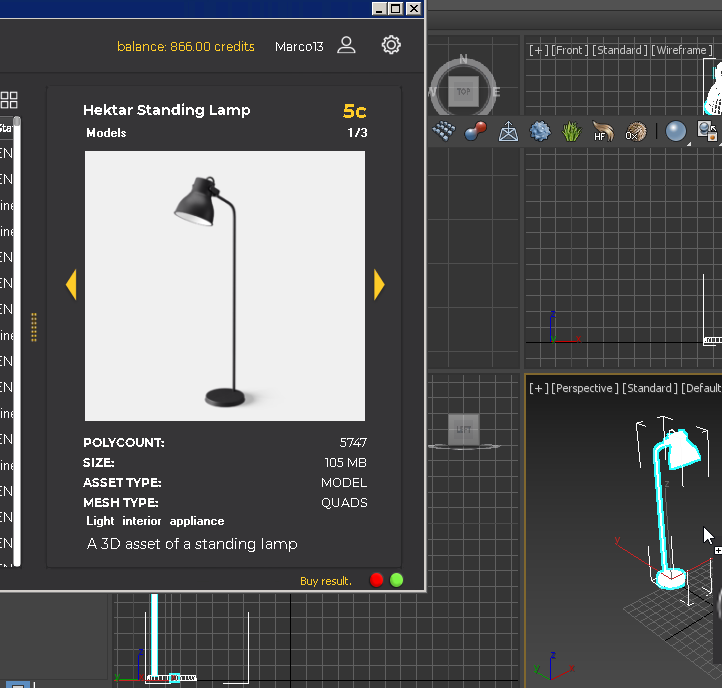 That's it!
We highly recommend taking advantage of the app so you won't need to manually set up shaders and textures for your assets.
If you aren't a Max or SketchUp user, feel free to download directly from our site, and sit tight! Support for more DCCs is on the way!
Thanks for reading, and we hope to hear from you soon!
Happy Creating from all of us at the Hive!